Skip to product information
FAST DISPATCH
Usually dispatched within 24 hours
RETURN UNOPENED PACKS
Hassle free returns
CUSTOMER SUPPORT
Contact us by email or phone
FAST SHIPPING
Choice of Delivery Options
Sale price
£1.99
Regular price
Unit price
per
Sale
Sold out
The Aspire Flexus Q pod is the easy to use replacement for your Flexus Q vape kit. Holding up to 2ml of e-liquid. 

Features:
Refillable 2ml Pod
MTL Vaping
Aspire Flexus Coil Compatible
Side Filling
Supports 50/50 & High PG E-Liquid
Share:

Gluten Free

Sugar Free

Calorie Free

Vegan Friendly
Product overview

Aspire Flexus pods are lightweight, durable, and can take up to 2ml of e-liquid so you can keep on vaping for longer between top-ups!

They are compatible with AF coils in both 0.6Ohm and 1.0Ohm giving you control over your vapour and flavour intensity - the sub-ohm 0.6 can handle higher-VG juices but both coil options are best when paired with 50-50 freebase or nic salt vape juice, delivering a rich flavour and satisfying vapour production.

They feature a side filling port with a silicone plug for quick access.

each box contains 1 x Aspire FLexus pod - coils must be purchased separately.
Key benefits

2ml e-liquid capacity.

convenient side-filling design.

multiple coil options for greater control over your vaping experience.
Why choose

Ideal for those who want a pod system that creates less waste than disposable vapes - reuse your pod for longer y only replacing the coils (we recommend rinsing the pod with warm water between flavours when changing coils to ensure you have the best flavour experience).
Share:
View full details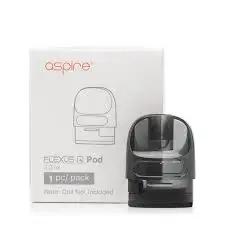 FAST DISPATCH
Usually dispatched within 24 hours
RETURN UNOPENED PACKS
Hassle free returns
CUSTOMER SUPPORT
Contact us by email or phone
FAST SHIPPING
Throughout Europe