Skip to product information
FAST DISPATCH
Usually dispatched within 24 hours
RETURN UNOPENED PACKS
Hassle free returns
CUSTOMER SUPPORT
Contact us by email or phone
FAST SHIPPING
Choice of Delivery Options
Sale price
£12.99
Regular price
Unit price
per
Sale
Sold out
Share:

Gluten Free

Sugar Free

Calorie Free

Vegan Friendly
Product overview

The RPM-2 coil series is a specialised sub-ohm range designed to insert into Smok RPM-2 pods, fitted to the Nord 4 device.

5 x coils per pack.

They are available in the following variants:

RPM-2 Mesh 0.16ohm: inteded for those who want maximum vapour production and the ability to take the Nord 4 device to it's maximum of 80 watts.

RPM-2 Mesh 0.25ohm: intended for those who want a slightly toned down sub-ohm vaping experience using high-VG vape juices.

RPM-2 DC 0.6ohm: This is the exception in the RPM-2 range, as it is intended for MTL vaping of 50-50 or Nic salt juices as much as it can handle high-VG products. It offers a tighter draw than those above and a smaller wicking port that prevents flooding when using thinner vape juice like 50-50s.

Compatibility
RPM-2 coils only work with the Nord 4 RPM-2 pod, paired with the Smok Nord 4 device battery.
Key benefits

Enhanced flavour production
Specialised wicking ports for optimised performance when using High-VG products
Simple to install
Multiple options to chosoe form based on your needs
Why choose

RPM-2 coils are a necessity for those looking for the best sub-ohm experience when using the Smok Nord 4 device. They are likely to be favoured by more experienced vapers, however they offer enough flexibility to cater to those who are newer to vaping and looking to experiment with flavours and nicotine strengths.
Share:
View full details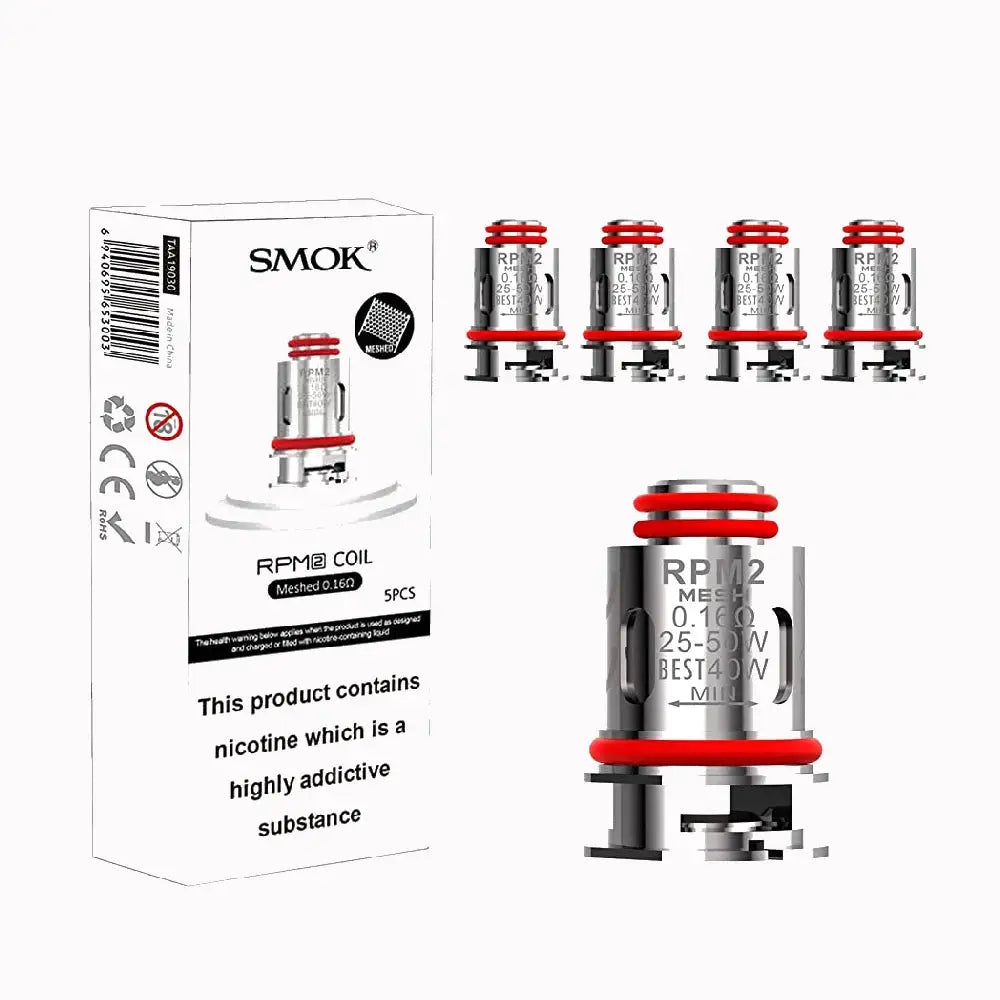 FAST DISPATCH
Usually dispatched within 24 hours
RETURN UNOPENED PACKS
Hassle free returns
CUSTOMER SUPPORT
Contact us by email or phone
FAST SHIPPING
Throughout Europe